In 2021, Digi2Market project of Karelia University of Applied Sciences collaborated with Plasthill Ltd. Plasthill usually operates under the name of Kupilka, as the brand known for its natural fiber containers is by far Plasthill's most significant brand today. Kupilka's products are made of pine pulp fiber and thermoplastic, 50 per cent each.
Kupilka's values ​​are related to greenery, freshness, positivity, uniqueness and flexibility. The function of Kupilka's products is not unique as there are cups and plates everywhere. So, in this competitive situation, it is important that the company's environmental responsibility is well included in marketing communications.
Karelia and Kupilka cooperated in three areas. The environmental review of Kupilka's operations was on the table in collaboration with energy and environmental engineering students. Marketing students concentrated on the launch of a new product. With the help of 360 Finland Ltd, Karelia's project team carried out a virtual tour of the Kupilka production unit in Kontiolahti.
Company: Plasthill Ltd / Kupilka
Kupilka is a brand of a family business, Plasthill Oy. The product range includes dishes made primarily of natural fiber and plastic. The family business is managed by CEO Esa Kaasinen. Kupilka's products are manufactured in the village of Pyytivaara in Kontiolahti. At the same time many competitors have outsourced their production to Asia or manufacture in large cities in industrial areas. The company employs about 20 people and has managed to increase its turnover by 40 per cent in recent years despite the pandemic.
The products represent a category in which global demand has been growing, which is why Kupilka's Export Manager Jaakko Järvensivu says that Kupilka should up its efforts in the field of marketing communications in order to take advantage of the strong marketing story they have.
Kupilka has noticed that the distributors of its products are interested in what Kupilka's production looks like. Speaking at the NPA Goals project on June 14, 2022, Järvensivu admitted, that although Plasthill and Kupilka have been pioneering in the "greening" of its production facilities, especially due to its energy and circular economy solutions, Kupilka could tell better about these actions. Cooperation with Karelia's Digi2Market project in 2021 was part of this development of marketing communications.
Facebook: https://www.facebook.com/Kupilka/
Instagram: https://www.instagram.com/kupilka_official/
Youtube: https://www.youtube.com/user/KupilkaCup
Pinterest: https://fi.pinterest.com/kupilka_official/
What was done with Kupilka?
As the pandemic limited opportunities to present products at trade fairs and other meetings, there had grown a need for Kupilka to get closer to its international customers. To achieve this goal a cooperation was started together with Karelia, 360 Finland Ltd and Kupilka. The plan was to utilize 360 photography in many different fields. 360 Finland spoke about the opportunities, which were then matched with expectations of Karelia – to try out new things – and the needs of Kupilka.
The ideas were quickly unified. With the help of 360 images and the text, image and video content imported into them, there was a good end product. The virtual tour communicated the production process, the spirit of the family business and especially the environment in which Kupilka's products are born. It was important to look for factors that would allow Kupilka to differentiate itself from its competitors, and highlight more the nature, where the ecology of manufacturing is at the center of the business.
During the implementation, we got a glimpse into the everyday use and manufacture of the Kupilka company at Pyytivaara. Although there are many secrets involved in manufacturing, it was possible to tell customers interesting details about the products. That increased the sense of a close-knit family business that produces high-tech personalized products. The implementation also utilized previously produced marketing materials by embedding some videos in 360-image televisions, among other things.
The virtual tour was given an "outdoors feel" with the presentation of facilities from a bird's eye view. The 360 ​​images taken with a drone highlight, that Kupilka's products are manufactured in the same kind of conditions in which they are also used by many of the end product buyers. The production team was lucky in the video production, as the weather conditions on the day of shooting were ideal for outdoor photography.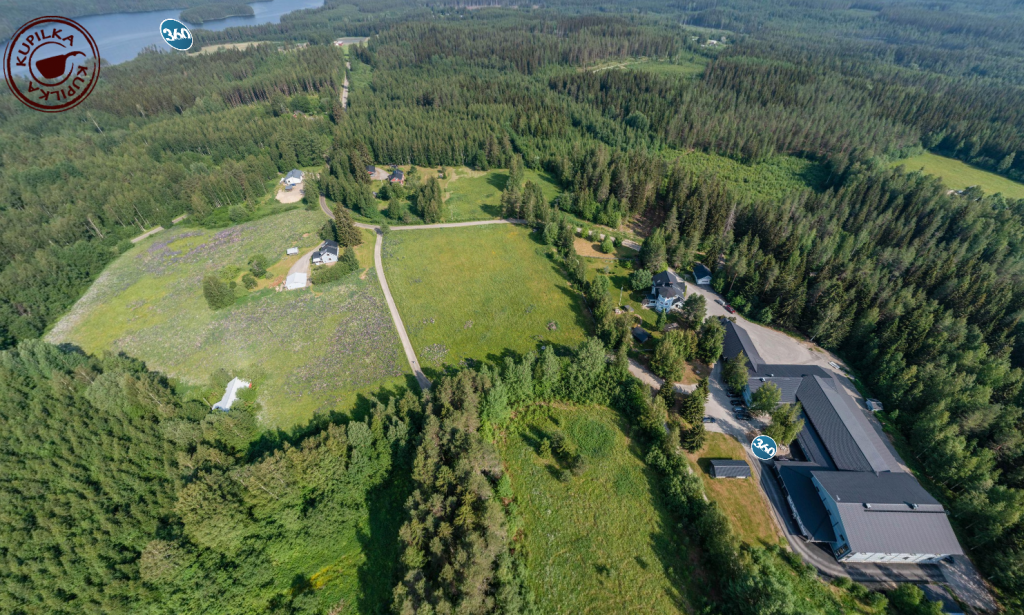 In one of the 360 locations, the one where Kupilka's products were used, it was also possible to get to know eight Kupilka's products in more detail. Dozens of photographs had created a kind of 3D object that could be viewed from several different directions.
Access to the online store was also connected to the implementation. The primary target audience of the virtual tour was to be executed in English, but at the same time a Finnish-language implementation was naturally created.
Check out the implementations at 360.kupilka.fi  (link 2)
Text: Risto Salminen